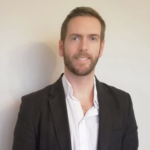 Jonathon Ward BSc (HONS) Phys, MCSP, SRP, Pg Cert Manual Ther, Pg Dip Manip Ther, mSTO, mBMAS Principal Physiotherapist
After studying at the University of Ulster for his batchelors degree in physiotherapy, Jonathon gained experience in South Africa, USA and the UK. He began his career working in both the national health services of South Africa and the UK were he began specialising in the field of musculoskeletal. Jonathon has since, worked in the private health sector over the last 15 years.
Throughout his career, Jonathon has worked alongside an assortment of sports teams specialising in a variety of sports injury rehabilitation programmes. He also took a core stability class for 2 years which focused on strengthening the back and providing postural correction.
He has completed various post grad musculoskeletal courses, one of the most notable being a Post Cert certificate in Manual Therapy from Glasgow Caledonian. This is part of the MACP which is an elite organization of physiotherapists that ensures the highest standard of excellence in the treatment of muscle, joint and nerve problems. In fact only a very small percentage of Chartered Physiotherapist in the UK hold this qualification. He has completed a Post Graduate Certificate & Diploma in Manipulative Therapy allowing him to specialise in both advanced physiotherapy, chiropractic and osteopathic manipulation techniques across the body.
Jonathon takes a keen interest in manipulations, manual therapy, dry needling, electrotherapy, core stability, ergonomics, biomechanics and kinesiology testing.Most recently he has undertaken training in Musculoskeletal Ultrasound Imaging and with now having an Ultrasound scanner at the clinic helps making diagnosis of certain conditions even more precise. Throughout the years he has membership with the OCPPP (Organisation of Chartered Physiotherapists in Private Practise), aMACP, STO (Sports Therapy Organisation) ACPOHE (Organisation of Chartered Physiotherapists in Occupational Health & Ergonomics) and BMAS (Bristish Medical Acupuncture Society). He aims to provide an individualised treatment based on an holistic approach for the optimal results of each patient.
Mark Penn BSc (Hons), HCPC, MCSP. Senior Physiotherapist.
Mark graduated from Manchester Met University in 2012. He went straight into private practice gaining experience in various busy practices in England before returning home to Northern Ireland in 2017. Mark has built up experience working with a variety of sporting teams from football, rugby. gaelic to the more obscure such as ultimate frisbee. His most notable sporting experience was working within a professional rugby league team.
Since returning to Northern Ireland in 2017, Mark has remained in a position at Active Therapy Clinic. Mark is passionate about treating musculoskeletal problems and regularly continues his professional development with a wide variety of postgraduate physiotherapy musculoskeletal courses. He is currently in the process of completing a post-graduate diploma with the Society of Musculoskeletal Medicine.
Mark has postgraduate training in acupuncture/dry needling, manipulative therapy and is also trained to level 5 in sports massage.
In his spare time Mark enjoys keeping active, ice skating and playing guitar.
Amy achieved a First Class Honours in Physiotherapy from Teesside University.  She is now registered with the HCPC and the Chartered Society of Physiotherapy. Amy has a six year history of working in healthcare both in the private sector and public sector. During this time Amy had the opportunity to work within Amputee Rehabilitation, Stroke Rehabilitation and Musculoskeletal departments.  This background in healthcare has provided Amy with a wealth of skills and the ability to work with a range of service users including the elderly, patients with mental health and learning disabilities which she has been able to put into practice with her clients.
Since joining the team at Active Therapy Clinic, Amy thoroughly enjoys being part of the team and aims to make your health her priority. Amy has also achieved post graduate training in dry needling/acupuncture, Pilates, taping and is currently enrolled in Osteopathic and Chiropractic Techniques for the Cervical Spine and undertaking a diploma in Osteopathic treatment of the temporomandibular Joint and Headaches.
Jack graduated from Liverpool University with BSc (hons) Physiotherapy and returned to Northern Ireland to pursue his career.  He is registered with the HCPC and the Chartered Society of Physiotherapy. Jack has gained extensive experience in Musculoskeletal physio, he has specialised in hand and wrist therapy as well as having the  opportunity to work in the intensive care department in the Woolton Centre, Liverpool and the Major Trauma Centre in Aintree. During this time Jack has amassed a wealth of skills and experience working with a wide range of patients and conditions.
Jack also holds the position of physiotherapist for Aquinas 1st Senior football team giving him a great insight into sports injuries, rehabilitation and preparing athletes for sporting events.
Jack is a caring physiotherapist with a passion to help all his patients back to their best
Simon Collins BSc (hons) podiatry.
Qualified from Queen Margret University in Edinburgh 2013 with bachelors degree. Simon is registered with HCPC and is a member of society of podiatrists.
Since qualifying Simon has gained lots of experience working in both NHS & private practice.
Simon enjoys all aspects of podiatry but have keen interest in bio mechanics (gait analysis), Insoles, nail surgery and diabetes.
Simon gained further qualifications in bio mechanic courses and dry needling/Accupuncture
At active we enjoy providing a friendly pain free service including nail care, callous, ingrown toe nails, sports injuries, foot pain, knee & hip pain etc.
"I enjoy being part of good team with the physio's and being able to help people of all ages from kids to elderly. When my patients come in with pain and then walk out pain free and tell me there walking on air. It makes me love my job every day."
Sports Therapist & Massage Specialist
Tom graduated in Sports Therapy from the University of Central Lancashire in 2011.
From graduating, Tom started working for EFL side Southend United where he worked with the first team assisting the head physio in training and on match days both home and away as well as working in the academy from the under 8 age group up to the under 23 side.
Upon leaving Southend United, Tom started working in clinic treating a wide variety of injuries from many different sports including football, rugby, hockey, running and tennis. In clinic Tom likes to spend plenty of time with his clients to not just manage their pain levels but also understand why an injury has occurred and how to reduce the chances of an injury returning again in the future. Tom uses a combination of sports massage, mobilisations, postural analysis and correction, taping and one to one injury rehabilitation.
As part of being a Sports Therapist, Tom is also specialised in sports massage. He has provided this to a wide range of patients. Whether an elite level athlete, a recreational runner or someone who sits at a desk all day, sports massage would be very beneficial for you.
Tom qualified as a Personal Trainer in 2020 meaning he likes to focus particularly on rehabilitation of sporting injuries to get someone back to being fully fit to compete.
Tom is also into his sport himself having run two London marathons along with several other half marathons, played football regularly and enjoys watching football, rugby and cricket.
Tom made the move from Essex to Northern Ireland in October 2020.
Sarah graduated from the University of Ulster with a BSc (hons) degree in Sport and Exercise science. During her degree she took a special interest in Massage and completed her level 3 in Sports Massage.
Sarah has worked in a busy gym as a Massage Therapist where she provided massages to everyone from elite athletes to office workers. Massage provides many benefits to everyone from reducing stress and  relieving muscle aches to working on medical issues and aiding recovery. Massage can also complement your physiotherapy treatment.
Sarah has a passion for caring for people and helping people become pain free. In her spare time she like to Highland Dance and also teaches it!
Hilary is a fully qualified Psychotherapist (Dip Couns MBACP) and registered member with the British Association of Counselling and Psychotherapy (BACP) She have been involved as a mental health counsellor for several years working both privately and in the voluntary sector.
Hilary works as an integrative counsellor. This means she uses a blended therapeutic method of counselling and adapts to the needs of each client individually.
Hilary says;  "I hope to promote a more positive approach to mental health and wellness." 
After working in the childcare and education sector both privately and part of the education authority, Ellice made a move into healthcare and administration, working as a personal coordinator for a private health company before joining Active Therapy in 2017 as a receptionist.
After having gained a wealth of knowledge in all aspects of the clinic, Ellice is now the Clinic manager and is the point of contact in the clinic for all enquiries from clients. This includes private, health insurance, Pilates and referrals.
Ellice has a passion for Active Therapy Clinic, aiming to always deliver the highest levels of service and professionalism whilst actively prioritising the health of all clients from the beginning to end of treatment.
After studying at the University of Strathclyde Business School for her bachelors degree in HRM & Marketing, Sharon gained experience in PricewaterhouseCoopers UK. She began her career working in both the public and private sectors as a HR consultant for 5 years before she joined Active Therapy Clinic as Practice Manager in 2010.
Sharon has since worked alongside a variety of local businesses to provide a multitude of services including delivering health and wellbeing workshops or days, workplace assessments, off site Pilates classes and also strives to achieve and maintain the highest levels of service for patients attending the clinic for treatment whether that be via health insurance, referral or privately, from first point of contact to completion of treatment.