Christmas Offers at Active Therapy
Christmas is quickly approaching and we have pulled together some brilliant offers to treat yourself or someone special this Christmas!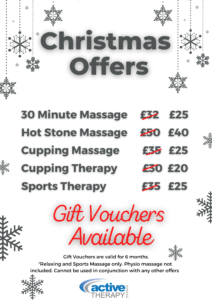 Book yourself in for one of these offers online by clicking here.
Alternatively purchase a gift voucher which will be instantly emailed to you by clicking here.
Relaxing and sports Massage only. Physio Massage is not included. Gift Vouchers are valid for 6 months.
If your stuck for gift ideas, we have you covered. A relaxing massage is the perfect gift to let someone unwind, destress and enjoy some pampering. If you want to provide the ultimate luxury massage then our Hot Stone Massage will be a winner. Hot stones are placed on key acupressure points on your body allowing for a deeper pressure during your massage.
Sports lovers  will really appreciate a 30 minute sport massage to help relax their muscles. A sports therapy session is another great idea for any sports lovers, any injuries can be treated, support on injury prevention and preparation for any sporting events.
Or if your looking for a unique and quirky gift idea why not purchase a cupping massage or cupping therapy gift voucher! Cupping therapy is one of the oldest and most effective methods of releasing toxins from the body tissue and organs. Special cups are placed on the skin to create suction which causes an increase in blood flow to the area. This draws impurities and toxins to the surface for release.
Don't miss out on these fantastic Christmas offers on these services!